Anyone else go on a beach vacation with your family and end up with literally every shell your kids spied? This post is going to help you put those shells to good use. Learn how to decorate oyster shells (these techniques could also be applied to other shells too).
---
How to Clean Your Shells
First, start with clean oyster shells.
A lot of people recommend bleaching your shells to rid them of any unsightly odors.
To do this fill a bucket with equal parts bleach and warm water. Let the shells soak stirring them every 30 minutes until the outer particles of the shell loosen.
Drain the bucket, scrub the shells with a tough brush, rinse in warm water and lay them out to dry.
We, on the other hand, have never bleached our shells and have had no issues with any smells. We soak them in warm water. Then rinse and scrub them and lay them out to dry.
Whichever method you choose, just make sure you are starting with clean and dry shells.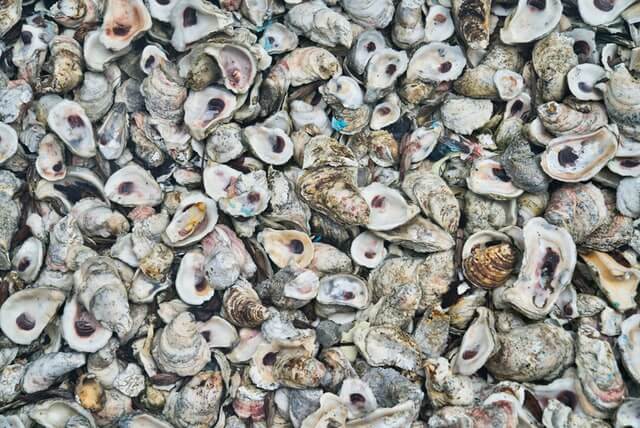 ---
Shell Decorating Techniques
Here are a few techniques for how to decorate oyster shells.
Or, use a combination of these techniques to create truly unique vacation keepsakes.
---
Supplies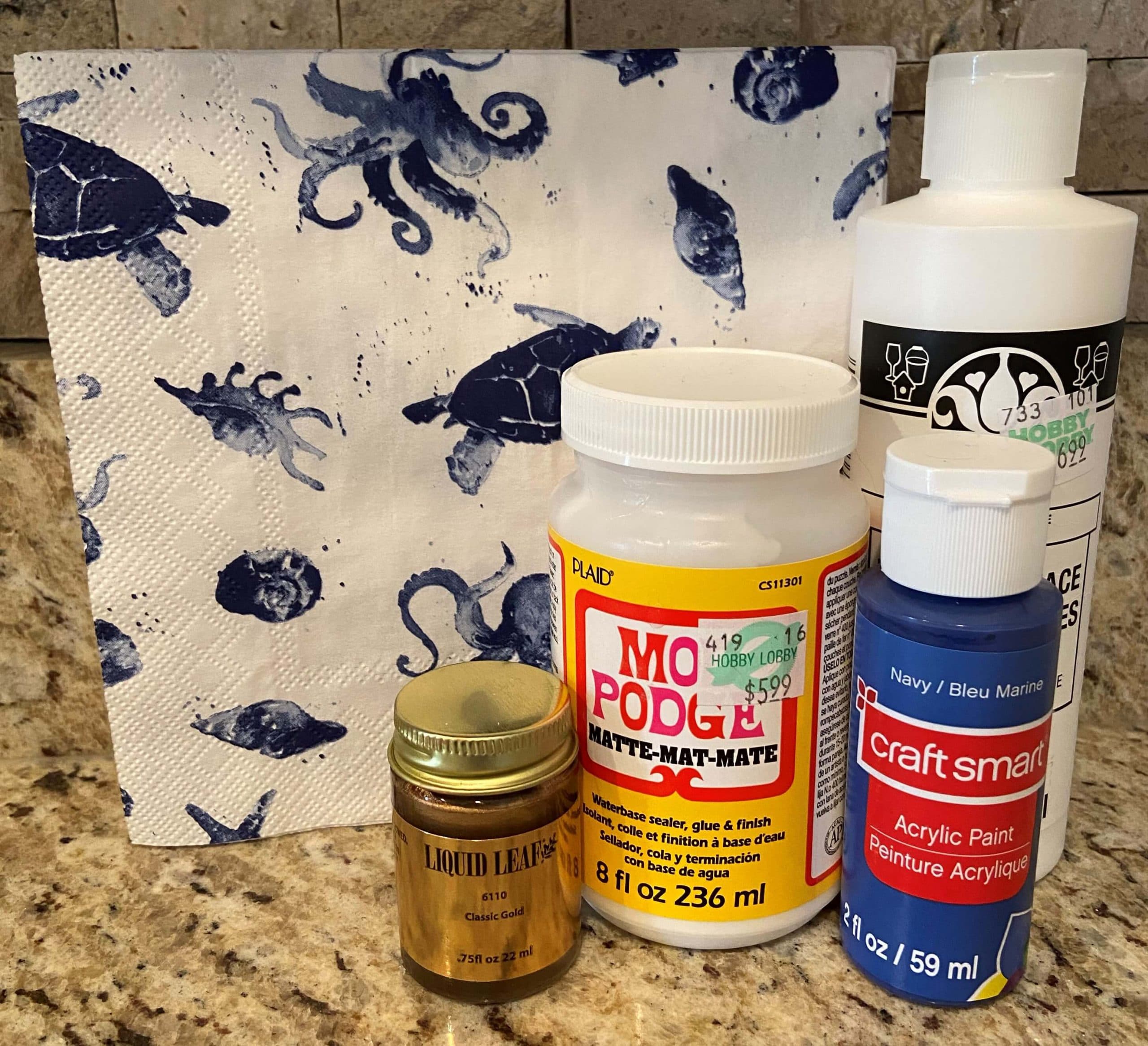 Clean shells from your beach vacation
Napkins, tissue paper, stickers, and/or vinyl
Paintbrushes
Scissors
White acrylic paint
Variety of colored acrylic paint
Glitter
Glue
---
Decoupage
Decoupage is a fancy name for gluing paper cutouts to decorate an object.
Start by covering your workspace. Next, take your clean and dry shells and paint the entire surface with the white acrylic paint. This is to ensure that none of the dark colors show through when you decoupage.
2. Take your patterned tissue paper or paper napkin. (If using a paper napkin make sure to separate the layers. You want only the thin top layer with the pattern.) Trace the shape of the shell onto your paper and cut out the shape. It's still going to be a bit large so trim it until it fits nicely into the pit of the shell.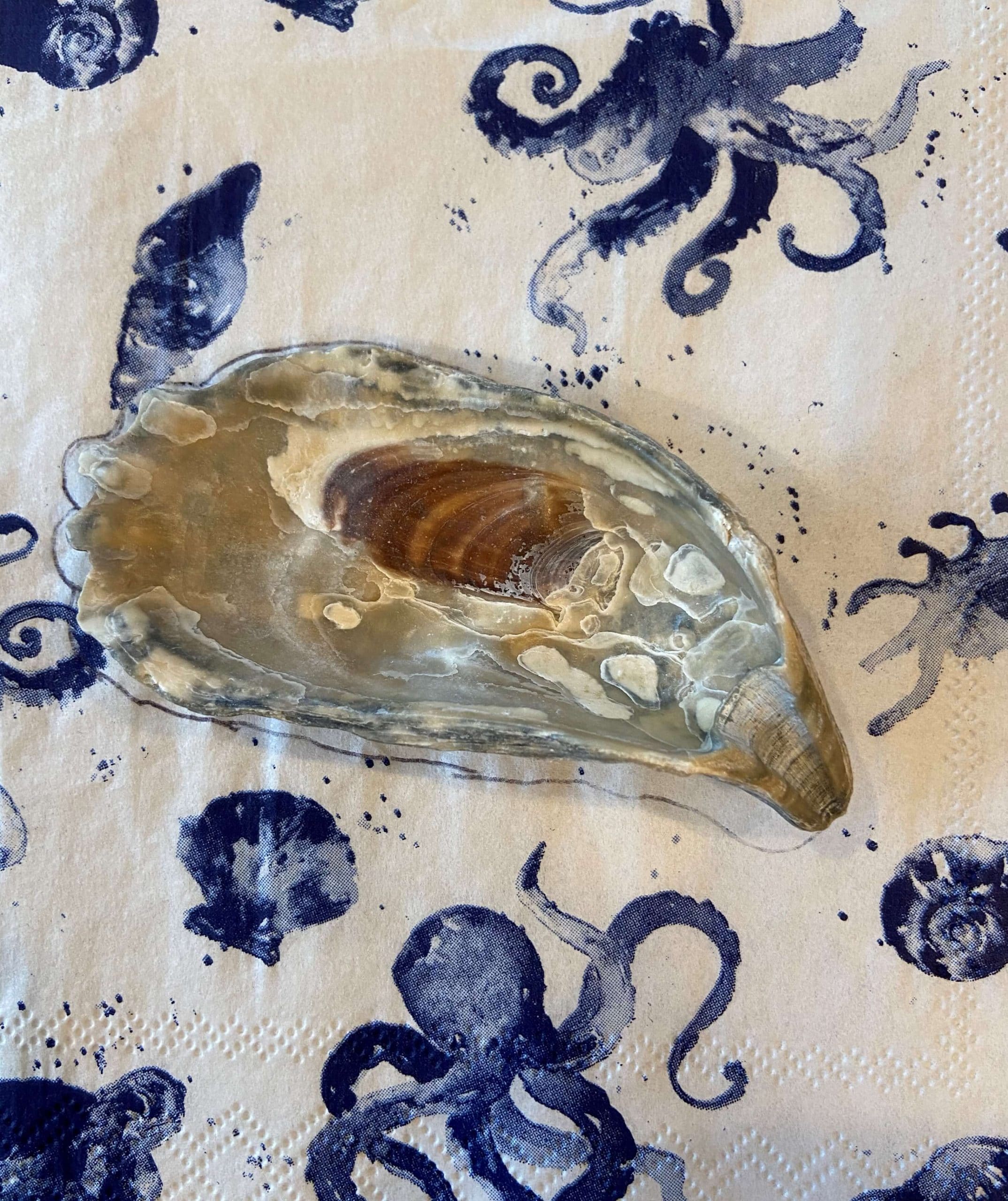 3. Paint a thin layer of Mod Podge onto the pit of the shell and lay your cut out on top (with the design facing up). Carefully use your finger or paint brush to smooth any wrinkles. Paint a thin layer of Mod Podge to the patterned side of the paper.
4. After the Mod Podge has dried, paint the liquid gold leaf around the edges of the shell. Allow to dry and continue painting it over the back of the shell.
---
Paint
The world is your oyster. The world is your canvas. In this case, it's both. Let your creativity shine. If you don't have too much artistic ability in the painting department like me stick with one color in the pit of the shell and apply some liquid gold leaf around the edges and back or just use the liquid gold leaf all over. Use a paint marker to add words or designs. Whatever floats your boat here.
Use some Mod Podge when you are finished painting to add a nice gloss and sealer (unless you are adding more designs).
If the shell doesn't quite look complete with paint alone, decoupage some stickers or vinyl to the pit of the shell.
Print your own unique designs onto sticker paper or if you have a Cricut or Silhouette machine cut some vinyl.
Note – depending on how bumpy or curved your shell is and the shape or size of your sticker or vinyl design it could be difficult to get it to stick exactly how you want so keep that in mind when creating your design.
If you are adding stickers or vinyl, paint a thin layer of Mod Podge on the pit of the shell, apply your design, and finish with another layer of Mod Podge over the pit of the shell.
---
Glitter
This technique works the best on the backs of shells or with sand dollars.
Squeeze the glue out in whatever pattern you want to create and sprinkle glitter on top.
Voila!
---
How to Decorate Oyster Shells Conclusion
Now that you know how to decorate oyster shells you can proudly display your beautiful vacation memories. Create a seashell display like we have in our house, use them as jewelry or trinket dishes, or make them into one of a kind place cards.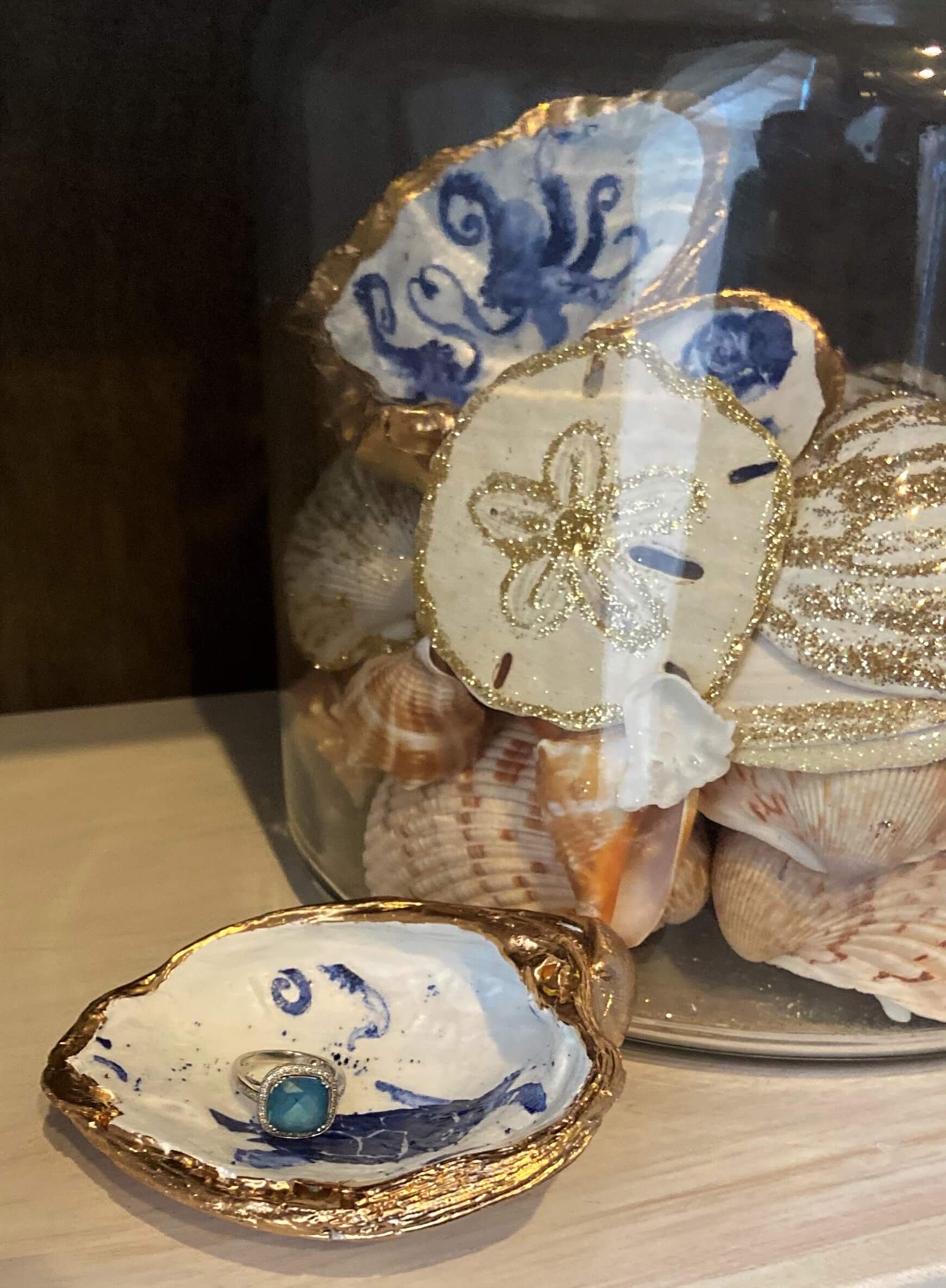 ---
We gathered our shells from Crystal Beach, TX while staying at Breckie Beach House.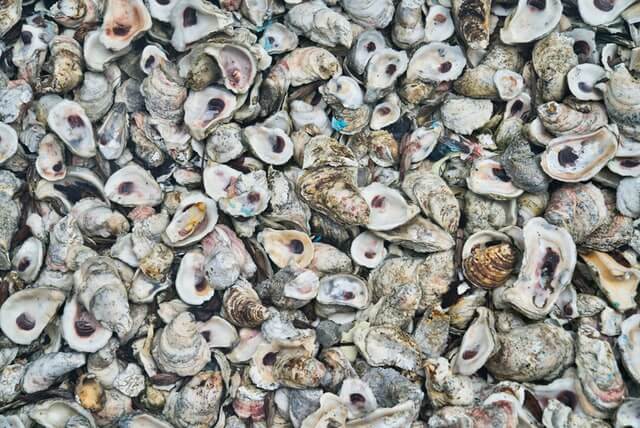 Book Your Beach Vacation Today