Blue Ridge boasts numerous restaurants that focus on providing good food to the community and sustainable living. Many of the Blue Ridge, Georgia dining experiences you will find use locally sourced products and seasonal foods giving diners the freshest, best tasting meals.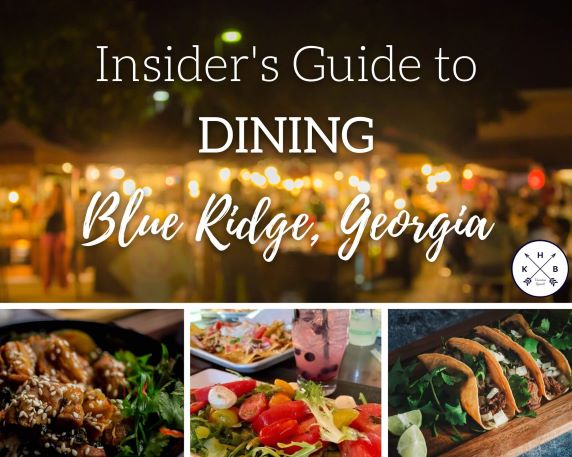 ---
Chester's is a rustic American bar and grill located downtown on the corner of E Main St and Depot St. They offer regional and seasonal fare which means their menu is everchanging and evolving to give a different taste at each visit. They do not take reservation but do have a waitlist on their website. While you are waiting for a table, visit Chester's Provisions next door for unique and fun gift ideas.
---
The Rum Cake Lady is the 2022 Best of Georgia, Latin Restaurants Category and 4 time winner of the Trip Advisor's Traveler's Choice Award! Rum Cake Lady is a family owned quick service cafe selling award winning rum cakes (yes, they have gluten free!) and authentic Cuban food.
---
The Dogwood is located in the old historic McKinney house. It's a great place to get some food, help yourself to over 70 choices in their self service beer garage, hangout and enjoy each other's company and some live music. It offers a whole new experience in dining.
---
The Black Sheep is located in the Historic Butt House and offers the best in fine dining. They use fresh, local, seasonal ingredients to complement their "wine spectator" recognized wine list, in an upscale dining experience. Reservations is a must if you plan to dine at The Black Sheep.
---
Blue Jeans is a local favorite for pizza, pasta, and wings. Their dough is fresh made in house which is why is such a popular spot and good news for those who are gluten sensitive, they have gluten free pasta and cauliflower pizza crust!
---
Carroll's Barbeque is a Blue Ridge favorite. Tom Carroll has been cooking up barbeque for large family gatherings and community events for over 20 years before opening up his restaurant to share his delicious barbeque with everyone.
---
Southern Charm is at the heart of downtown to provide their guests with a true taste of the south and true southern hospitality in their service. Their seating is first come, first served so get there early to beat the crowd.
---
The founding Chef and Owner developed his skills in Europe before returning to the US. He takes all of his culinary influences and gives them a southern twist. Harvest on Main uses locally sourced and seasonal ingredients and products as much as possible and they continue to grow their list of local products.
---
Cantaberry is a favorite lunch spot serving simple, homemade soups, salad, sandwiches, and desserts.
---
Masseria is another restaurant sourcing local, seasonal ingredients. It is "Appalachian Ingredients with a Mediterranean Twist." They offer a lunch and dinner menu featuring tastes of France, Spain, Portugal, Greece, and Turkey.
---
Whiskey and Water is a seafood and bourbon bar that will make you think you are on the coastline instead of being in the middle of the mountains. They serve top quality, sustainable seafood and have an extensive selection of whiskeys and bourbons from around the world.
---
The Fightingtown Tavern is the poster child for fresh cooked food advertising that they don't own a freezer or microwave. Their food tastes like "a killer guitar solo" or is also described as "bar food that went to Harvard." It may be a tavern but it's a family friendly atmosphere.
---
For a comprehensive list of Blue Ridge, Georgia dining experiences for local food and drinks please visit Georgia's Blue Ridge.
---