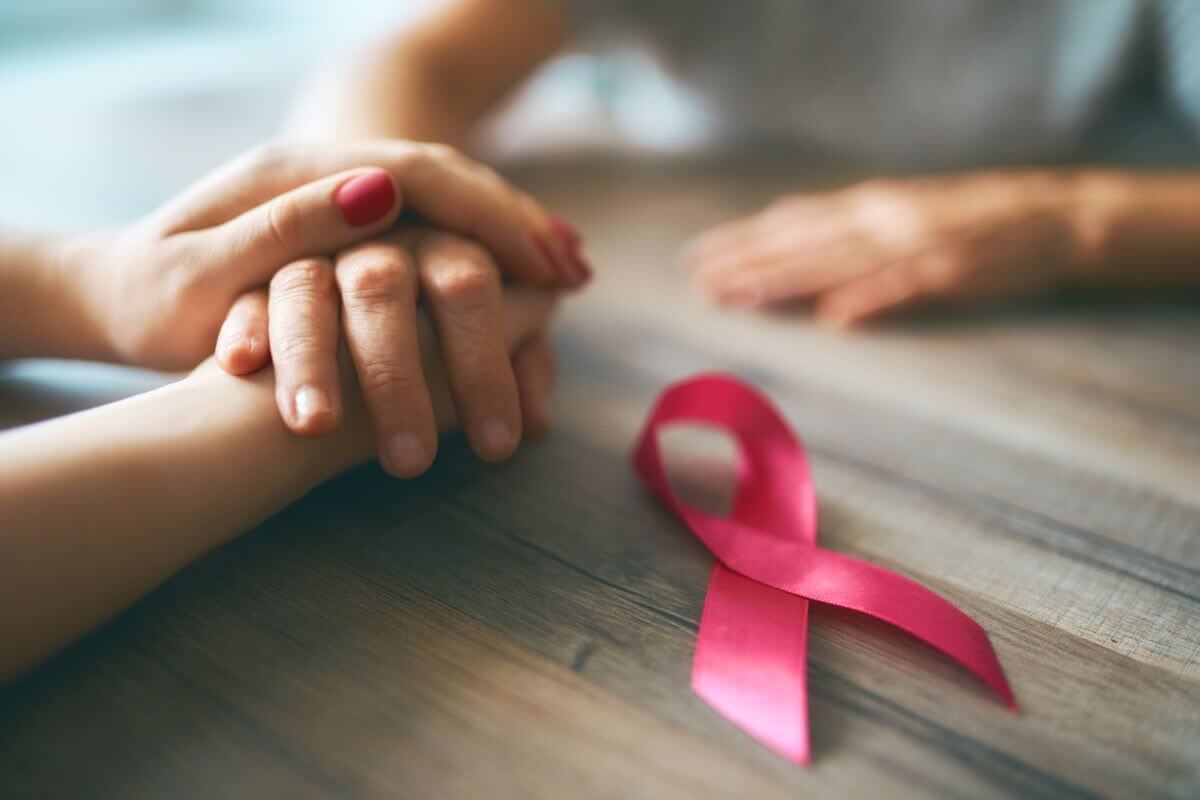 You're loved one just received a lifechanging diagnosis – breast cancer. You want to be there for her but you have no clue how to provide breast cancer support for your loved one. You don't know what to do or what to say.
This article provides a general overview of how you can best support your loved one whom has received a breast cancer diagnosis from people who have been in their shoes. Instead of relying solely on my personal experience (I was diagnosed with Stage 3 breast cancer at age 34), I decided to ask the 5,200 women in the breast cancer Facebook group that I'm a member of. I asked them how people made them feel most supported and also what not to do. There were a lot of common themes in their responses.
How to best provide breast cancer support for your loved one
Be there for her
Just be there. Sometimes your loved one might want you to listen, commiserate with them, encourage them, go for a walk or a ride for a change of scenery, or want to talk about anything but cancer to have a sense of normalcy again. Or she might want help with the kids or the house. Sometimes just sitting with her and watching TV without having to talk at all is the most comforting thing you can do.
If you don't know what she needs don't be afraid to ask. If she doesn't know what she needs try to put yourself in her shoes and think about what you would need the most in that situation.
Give her grace
Be kind, patient, and support your loved one in her health decisions.
Meals
Either set up or sign up for her Meal Train. Meals when you don't have the energy to figure out what to have let alone make something are invaluable.
Instead of asking what sounds good, ask what she can't tolerate at that moment. That can be an easier question to answer especially when she feels so sick it's hard to eat anything at all.
If you are coming over to visit, tell her you are swinging by the store and ask what you can pick up for her on the way.
Gifts
Give care packages with items that she will actually use instead of the piles of coloring books that will only get cast aside.
Offer Specific Help
Literally everyone and their mother is telling your newly diagnosed loved one "tell me what I can do to help." Although it's a nice sentiment, once it's time to ask for help your loved one likely doesn't know who to turn to or what they are willing to do. She might not even be aware of what she needs. Most likely she also has a hard time asking for help. Instead think about what you are good at/willing to help with/like to do and offer that. For example, "I'm picking up your kids for the day does Monday or Tuesday work better?"
Love her kids
Spoil her kids with love and affection. Their mom can't be there for them the way that she was before cancer. Her kids also might not totally understand what's going on. They may be scared. Give them back some fun in their lives.
Stay in touch
A simple text message to let her know you are thinking about her and praying for her is comforting and is sometimes enough.
Take the pressure off by ending it with "no need to respond." Your loved one is feeling extremely overwhelmed and at times responding to a text can be too much for her.
How to provide breast cancer support for your loved one. Lastly,
The most important….SHOW UP. Just show up for your loved one in whatever way you can, love them, and let them know you care. Are you going to do it perfectly? Probably not, but the fact that you are there speaks volumes.
What not to do
Although you may mean well, please try to avoid these things.
Avoid common cliché cancer phrases
Please don't tell her she is strong, brave, a warrior, a fighter, etc.
There are days that your loved one is going to struggle just to get out of bed. She has probably never felt so emotionally, mentally, and physically weak in her entire life and she is honestly just trying to survive.
Instead tell her something like "I'm sorry this is happening to you" and remind her that you are there for her.
Don't talk about other people's cancer experiences
Don't tell her about everyone you know that has had cancer and especially if that person died from cancer.
Gifts
Please don't give her everything you see that is pink, has a breast cancer ribbon, or says any of the cliché cancer phrases on it.
Keep your opinions to yourself
Don't judge or give unsolicited advice about diet or treatment plans. Your loved one is doing their best to survive from day to day.
A lot of people have preconceived notions about what they would do if they had breast cancer. However, you will never know what decisions you would actually make until you are living through it yourself. Furthermore, the right decision for you might not be the right decision for someone else.
Don't compare her reconstruction to your "boob job"
Your loved one is not lucky to be getting a "boob job" or "tummy tuck" (if she is having a flap reconstruction after a mastectomy). She is having her boobs amputated. She did not choose this and she will be left with a painful recovery and scars that will serve as a constant reminder of the horrors her body underwent.
If you don't have something nice to say, don't say anything at all
Be gentle when commenting about her hair. Looking in the mirror and not seeing the person she used to look like is a constant reminder of everything she's gone through. Although you may think her hair is growing quickly. In reality, it will take years (especially if she had long hair prior) for her to feel like she looks normal again.
Leave the pity out of it
Express your concern and love for her but leave the pity out of it. There is a different look that flashes in people's eyes and a different tone of voice that they take when asking "how are you?" with pity. Talk to her as you normally do and don't project your feelings onto her or assume she feel a certain way. It's ok to ask questions and be curious if you aren't sure.
She might not want to celebrate
She recently finished a big round of treatment or is totally cancer free but that doesn't always mean she's ecstatic about it.
Finishing one round of treatment usually means that there's something new up to the plate. Something new and unfamiliar. She had finally figured out how to best handle side effects and life while receiving one treatment and now is being thrown into something totally new. The unknown is scarier than the known which is why she might not seem as excited as you are that she finished her chemo, radiation, surgery, etc.
Just because the cancer is gone doesn't mean her world is right and normal again. It's hard to learn how to be a patient. Hard to let people help you and to ask for help. She has become accustomed to family, friends, and her healthcare team putting all their focus and energy on her. Now she's finally cancer free and everyone goes back to life again as normal. Everyone except her. She is left to pick up the pieces of her life that don't quite fit anymore. She's left to wonder if the cancer is going to come back.
How to Provide Breast Cancer Support for Your Loved One – Real Life Tips Summary
Your loved one needs all the love and support she can get right now. Don't be so afraid of doing or saying the wrong thing that you disappear when she needs you the most. Give yourself grace and patience to understand your new role in her life.
Approach her with love and empathy. If you have questions on how best to support her just ask and listen.
---
If you or your family has been affected by a breast cancer diagnosis please visit our KHB Breasties page to learn more about an opportunity to stay at one of our vacation rentals for free.